about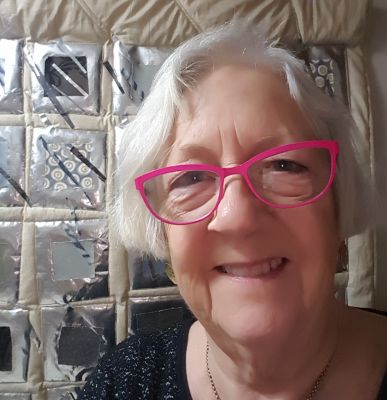 Australian girls in the 1950s learned domestic needlecrafts at school, from our mothers and grandmothers. At university I studied to be a secondary teacher, but as my geologist husband's career required frequent major re-locations, my teaching career was patchy and brief. I sewed and decorated clothes for children, and as we moved about stitchery became a portable passion, linking me with fellow embroiderers, workshop teachers, quilt makers and multimedia artists wherever I went. Living in various different landscapes has always inspired my art, the cultural influences have been less obvious to me.

My first designs in stitch were exhibited solo in Sunburnt Textures in Australia, 1987. Combining paint, stitch and found objects, those early mixed media works celebrated colour and texture in landscapes. In late 1987 the family relocated temporarily to the USA where I came into contact with traditional American patchwork and quilting, plus our travels in the American Southwest renewed my interest the art of ancient Man, prompting my first art quilts, Ancient Expressions. Realising that I associate places and events with particular colours gave rise to my Colour Memory series. The Tracks quilts explore the notion that given enough time, every surface, from human body to granite mountain displays signs of change. With aging came the realisation that elements of life such as people, health, fortune wax and wane throughout our lifetimes, hence the the Ebb&Flow series. The coronavirus pandemic inspired my most recent works, Pandemic Patterns, featuring some of the iconic shapes related to this worldwide experience.
I regularly publish a blog, www.alisonschwabe.com/weblog/ in which I write on experiences and my experiments with technique and materials related to my art.
I exhibit regularly in USA and Australia, occasionally teach workshops, and welcome opportunities to speak to textile art groups. My work is usually for sale, so for a purchase or a commission proposal please contact me for further information.