about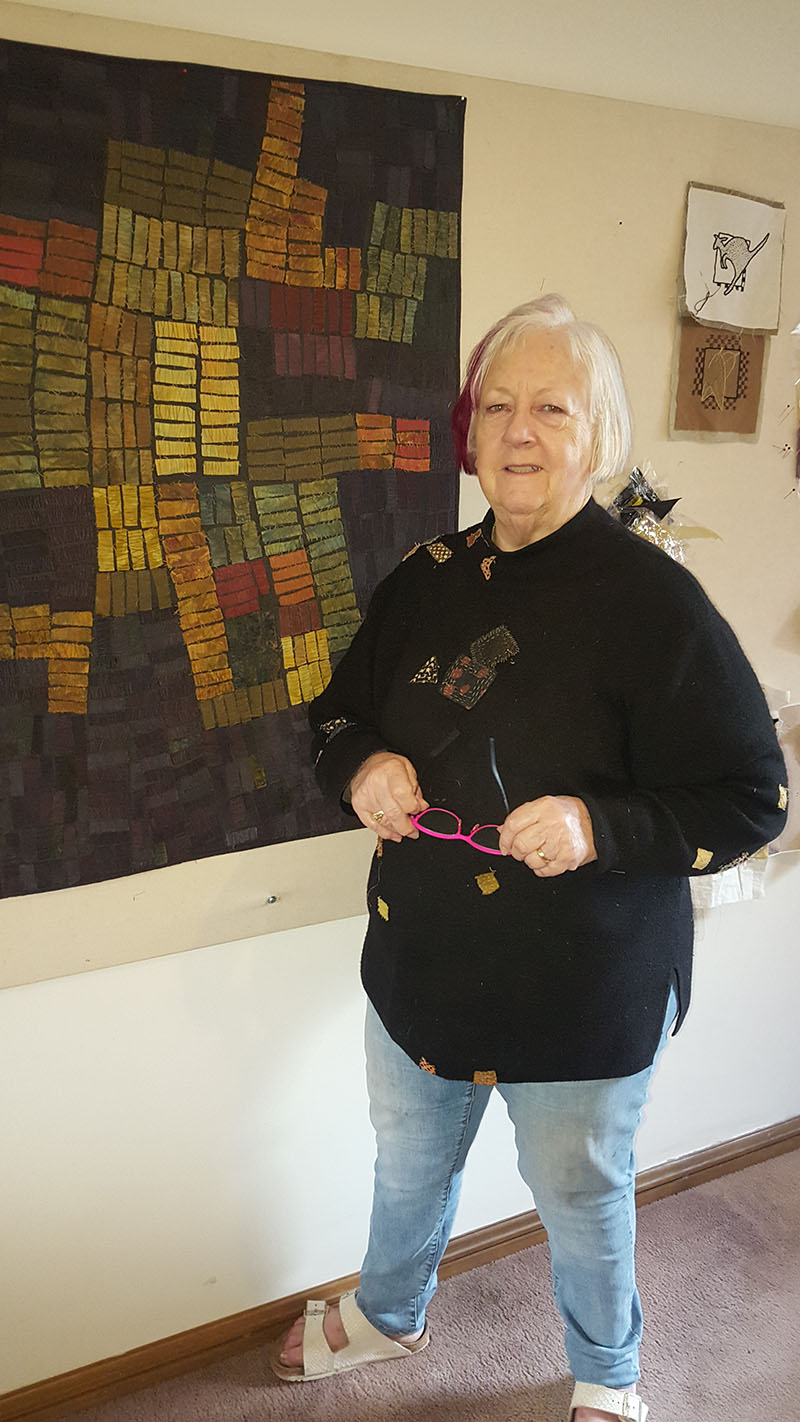 My textile art is principally 2D wall hangings, these days known as art quilts. Studio Art Quilt Associates, (of which I am a juried artist member) defines an art quilt as "a creative visual work that is layered and stitched or that references this form of stitched layered structure." The domestic skills of dressmaking and embroidery learned at home and school during my 1950s Australian childhood have always formed the basis of my textile art, which I have been exhibiting for 35+ years.
My work is minimalist and abstract, inspired by shapes, colours and textures of some of the landscapes in which I have lived and travelled during my life. Usually arranged in grid layouts of repeated units of various textile techniques, they frequently feature improvisational piecing augmented with hand stitching. However, since just before the Pandemic, much of it has been executed using hand stitched applique and quilting only. These and other influences in my textile art are an enduring reflection of my exposure to traditional American patchwork and quilting during several years I lived in the United States in the late 1980s.
My work is held in public and private collections in Australia, USA, Argentina and Uruguay. In addition to solo exhibitions in those countries, my art has appeared in various prestigious international juried, invitational and curated group exhibitions, including 6 Quilt Nationalsand several Art Quilt Australia biennials. I exhibit regularly in USA and Australia, occasionally teach workshops, and welcome opportunities to speak to textile art groups. My work is usually for sale, so to purchase or commission a work, please contact me for further information.
I regularly publish a blog, www.alisonschwabe.com/weblog/ which is in effect my artist's diary. There I write on interesting and influential experiences such as exhibitions or workshops attended; and I outline and discuss some of the sample making experiments that explore techniques and materials related to my art.
You may download a PDF of my full catalogue here.
Look for me and follow on Facebook https://www.facebook.com/alison.schwabe1 and Instagram @schwabealison